Flaman Sales and Rentals
92 Cook Rd.
(Corner of Hwy 1 & Hwy 8 North)
Moosomin , SK
S0G 3N0
S: Closed
M: 8am-5pm
T: 8am-5pm
W: 8am-5pm
T: 8am-5pm
F: 8am-5pm
S: 9am-1pm

Blog
Jan 21, 2021
Three reasons the Batco BCX3 needs to be your next conveyor
It's here. The legendary orange "gentle giant" from AGI/Batco has received more than a facelift for 2021. After a complete redesign from hopper to downspout, the BCX3 conveyor has a few new features worth bragging about. Aside from the redesigned S-Drive, new Turbo-Clean Wash System, and remodeled fuel tank, there are still 3 big upgrades that make this the most versatile conveyor yet.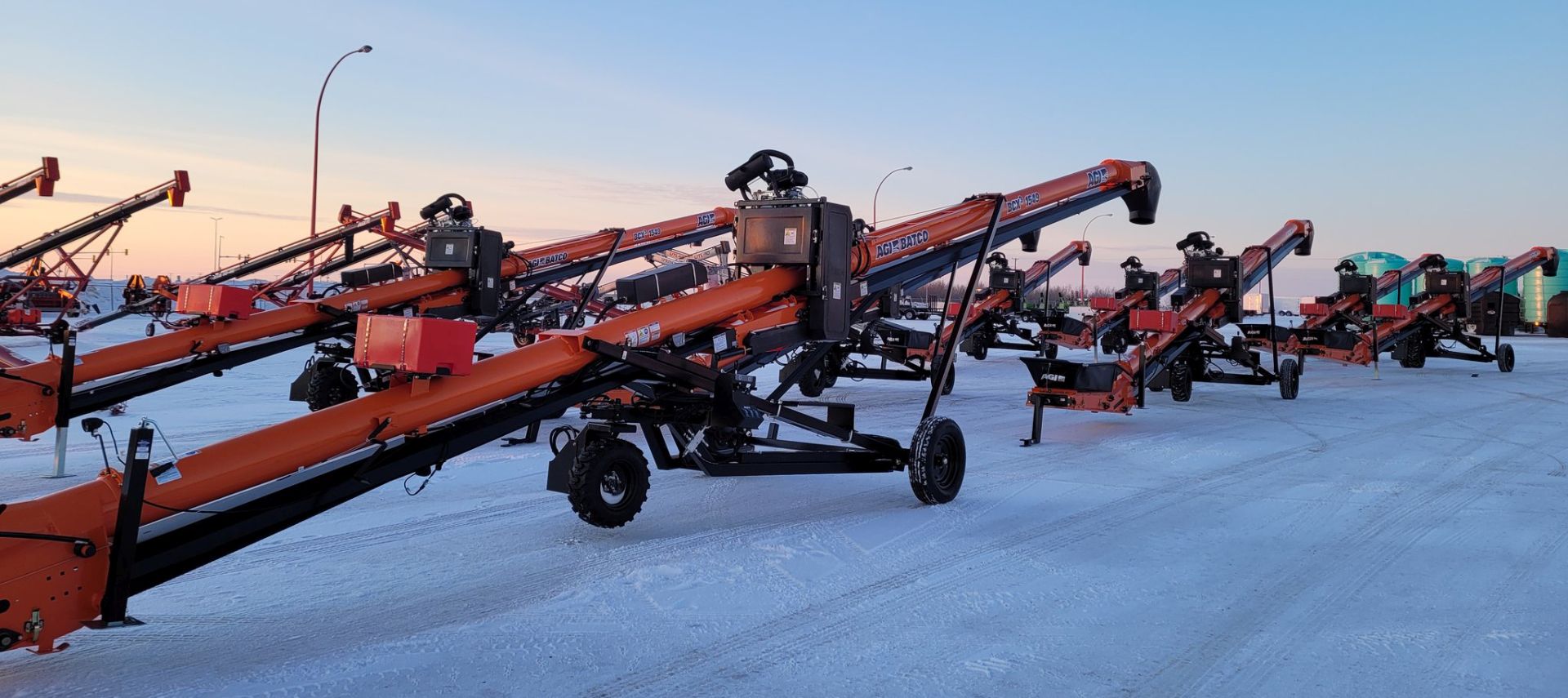 Move All Commodities - Most notably, the biggest feature of 2021 is the BCX3 conveyor's ability to move all farm commodities - that's right, INCLUDING CANOLA. Gentle on pulses, quick on cereals, and capable of oilseeds, you now have one tool for all your jobs. This has been made possible with a redesigned hopper & downspout, plus the new Turbo-Clean wash system with multiple scrapers & brushes. As with the use of any oilseed, additional maintenance and cleaning is required to ensure the longevity of your conveyor.

Multiple Controls, One Location - Redesigned, with functionality and safety in mind, you will find all the controls in one location. This means you can adjust the throttle, engage the clutch, change the height for both hopper & discharge, and drive all from one spot. No more reaching. The conveyor's control center has been relocated to provide better ergonomics and visibility as you drive, as well as additional clearance when setting up underneath your hopper.


Ergonomic Command Centre

Move with Ease - A completely redesigned mover adds substantial traction and maneuverability for your conveyor. The new all-terrain tire design has been coupled with an internal braking system to prevent rollback. The drop-and-go design is simple and safe - no more engaging or locking hubs. The drive wheel has been relocated to better utilize the weight distribution of the conveyor. This adds strength and exceptional traction. Did we mention the increased turning radius? The new mover design offers unparalleled maneuverability and versatility.


Redesigned Mover Kit
You need to see it to believe it.


For more information on our AGI Batco BCX3 conveyors, talk to one of our ag specialists at your nearest Flaman location or give us a visit and we would be happy to show you what all the buzz is about! We may even let you take it for a spin. Even with winter conditions, we can assure you that you won't need to worry about getting it stuck!