Flaman Sales and Rentals
92 Cook Rd.
(Corner of Hwy 1 & Hwy 8 North)
Moosomin , SK
S0G 3N0
S: Closed
M: 7:30-5:30
T: 7:30-5:30
W: 7:30-5:30
T: 7:30-5:30
F: 7:30-5:30
S: 8:00-2:00

Blog
Oct 29, 2012
Flaman wins the ABEX for Marketing
We're proud to announce that on October 20, Flaman Group of Companies was awarded the ABEX (Achievement for Business Excellence) Award for Marketing. The ABEX Awards were handed out by the Saskatchewan Chamber of Commerce at the Delta Hotel in Regina.
In the spring we won the SABEX (Saskatoon Achievement in Business Excellence) Award for Marketing,but the ABEX is for the entire province, so it means much more to be named top in your field for all of Saskatchewan.
So what does it mean to be a great marketer? One of the things you need to win in marketing is the "big idea" that resonates with your customers. In fact, perhaps the greatest challenge in marketing is to come up with these "big ideas," and when you have many divisions and locations you need even more of them.
Having big ideas for marketing is one thing we do not lack of at Flaman. Everyone on our team has many great ideas. A lot of our big campaigns didn't come from the traditional "marketing team" but from the broader team in general. For example:
The Great Stuck in the Muck Photo Contest came from Jody Kemp, a salesman in Southey.
Flaman Man was thought of by Taylor Assen, a territory manager in Calgary.
OPI Canola star commercials were the brainchild of store manager TysonBecker in Yorkton.
Because we get so many great "big ideas," our job is to pick the very best from them and implement them with excellence given the resources we have. But marketing is not just about great ideas, it's also about how you execute these ideas.
At Flaman, we're also very strategic. We create long-term plans and product strategies, and we pay close attention to analytics and stats. We have to make sure our ideas are getting the results we want. If they're not, we change direction. I'm proud to be part of a marketing team that has great ideas and excellent execution.
This award is our team's award, so congratulations to everyone who has helped us be our very best.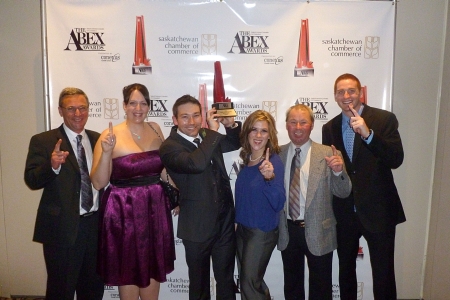 L-R: Don Flaman (President), Jennifer Thompson (Marketing Project Manager), Steve Whittington (VP of Marketing & Communications), April Basset (Marketing Co-ordinator), Rudy Flaman (Southey Store Manager) and Jeff Basset (Saskatoon Fitness Store Manager)