Flaman Sales and Rentals
92 Cook Rd.
(Corner of Hwy 1 & Hwy 8 North)
Moosomin , SK
S0G 3N0
S: Closed
M: 8am-5pm
T: 8am-5pm
W: 8am-5pm
T: 8am-5pm
F: 8am-5pm
S: 9am-1pm

Blog
Nov 25, 2020
Top Destinations to Ice Fish This Winter
This winter, there's no better time to explore the great outdoors in your own backyard. And one winter activity that's both fun and family-friendly is ice-fishing!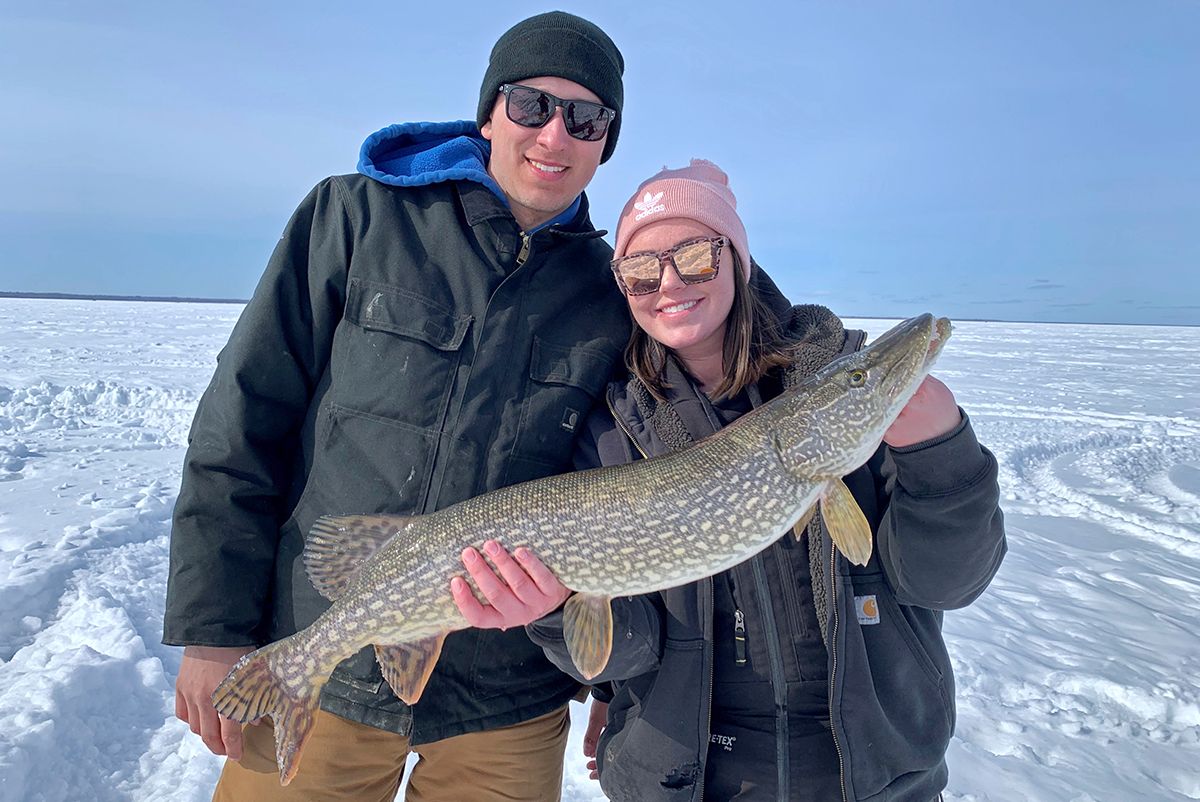 Even the kids can enjoy this popular winter pastime and come home with exciting stories of their great catch. It's easy to create long-lasting memories of a day out on the frozen lake: just bring along your fishing gear, hot cocoa, and a little bit of patience.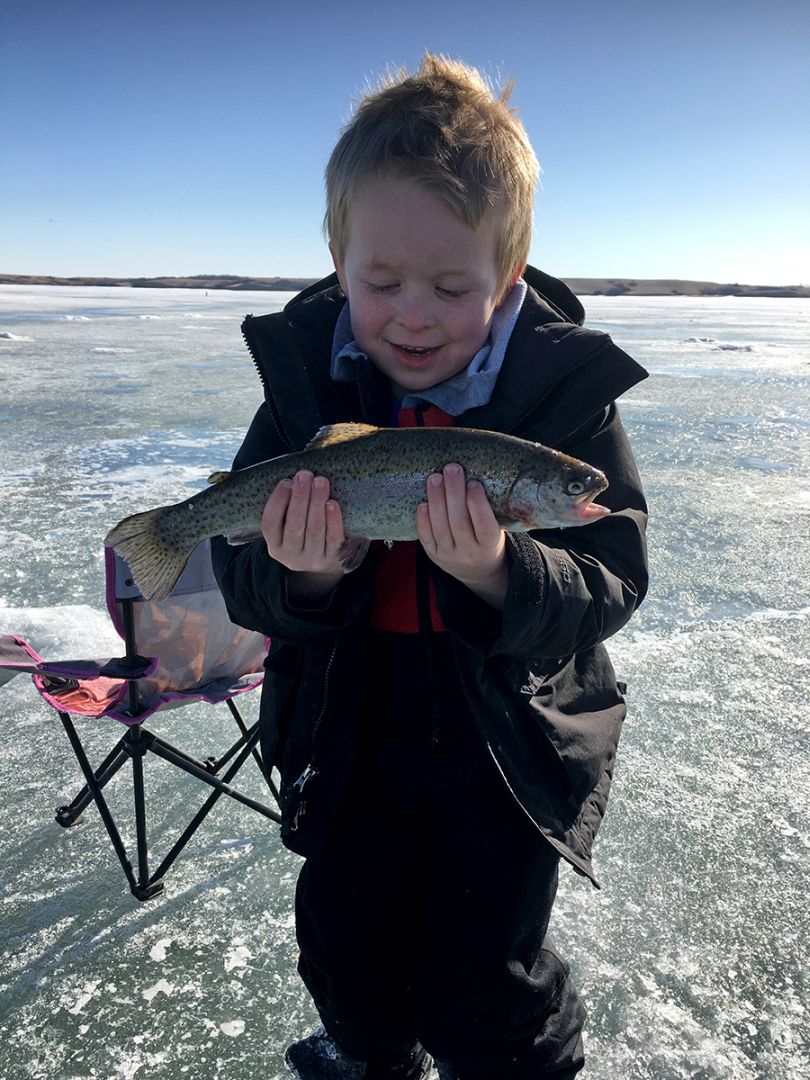 Whether you're a seasoned angler or new to ice fishing this winter, Flaman has you covered with many of the ice fishing accessories you need for a successful trip. Haul your gear (or the kids!) to your favourite spot with a sled. An ice shack is a great option to stay warm and sheltered from wind while out on the ice. And there are various accessories to make your trip just a little bit easier: like fishing rod holders or ice hole cover safety screens, so you'll never lose your keys or phone!

Once you have all the necessary gear, the hardest part is finding a top spot to drop your line. No problem – we've collected some great ice fishing spots to visit this winter, recommended by local anglers.




Top Ice Fishing Spots in Saskatchewan and Manitoba
Tobin Lake, SK
You can't talk about ice fishing without talking about Tobin Lake. The northern Saskatchewan lake holds the world ice fishing walleye record with an 18.3-lb. walleye caught! Anglers will also enjoy the variety of fish available to be caught, such as perch, pike, whitefish, goldeye or maybe even a sturgeon. Fed by the Saskatchewan River, it continues to produce trophy fish due to great catch and release practices.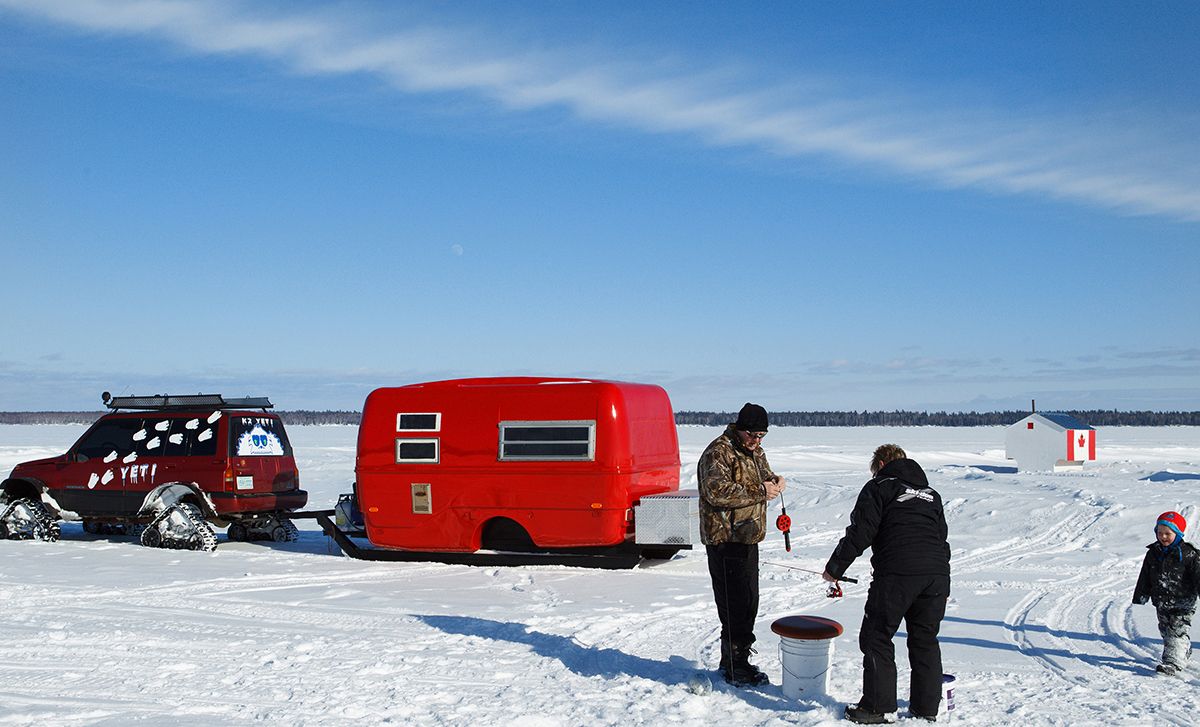 Ice fishing, Tobin Lake Tourism Saskatchewan/Rob Weitzel Graphic Productions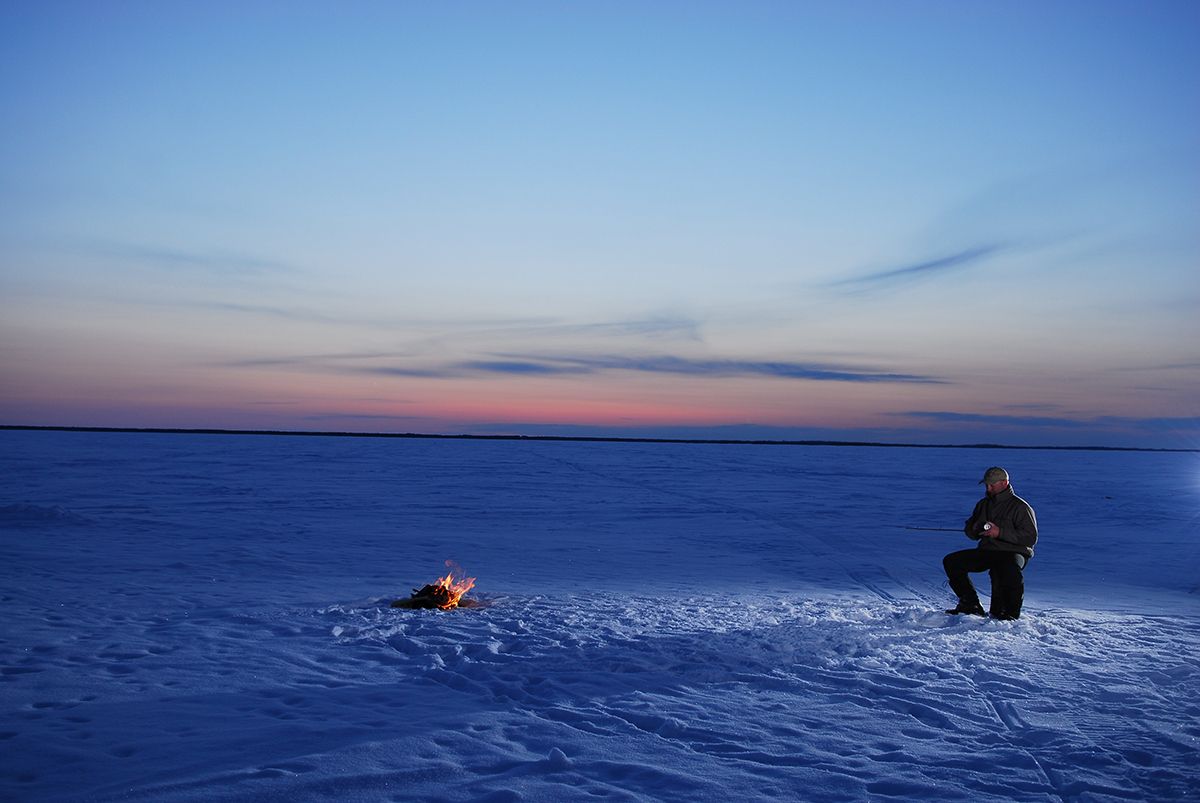 Ice fishing, Tobin Lake Tourism Saskatchewan/Calvin Fehr

Last Mountain Lake, SK
Last Mountain Lake is a favourite spot for ice fishing for many locals. At 93 km long, this lake has almost endless potential for fishing spots. Couple that with a large amount of forage, and you'll see many trophy-sized walleye, pike, perch and carp. The size and healthy populations of fish mean there is always a new spot to try out with the family.

Buffalo Pound Lake, SK
This is a great lake for families to visit – with an abundance of fish, even the kids will have a successful day with the catches they'll be able to reel in. Lots of perch to be found and even the odd walleye make an appearance. Plus, many locals also say that this lake always seems to have consistently safe ice.

Twin Lakes, MB
A twenty-five minute drive north of Roblin, this is a popular destination at the foot of the scenic Duck Mountains. It is one of only a handful of lakes in the province that is home to a brown trout and brook trout hybrid named tiger trout. Add to that specimens caught here regularly surpass Master Angler size and you have a must-fish lake for anyone's list.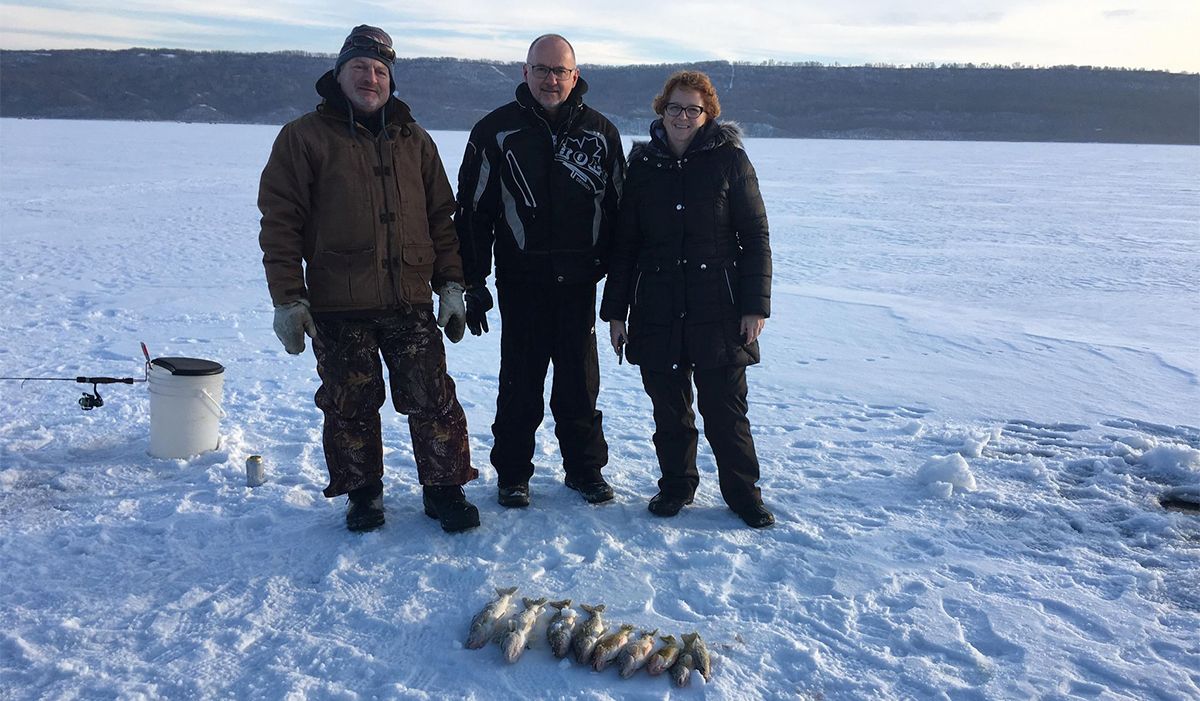 Top Ice Fishing Spots in Alberta
Crawling Valley Reservoir
Sometimes referred to as Barkenhouse Lake, Crawling Valley Reservoir is an offstream irrigation storage reservoir about 150km east of Calgary, near Bassano. Known for great pike and walleye, locals also report decent whitefish and burbot fishing mid-winter. Off the reedy shorelines which are quite shallow, you will find more northern pike and as you transition into deeper water (9-14 feet) there are more walleye.

Lesser Slave Lake
This lake is about a five-and-a-half-hour drive from Calgary and just under a three-hour drive from Edmonton. The most frequent fish caught here are walleye and burbot (and the burbot are known to put up a fight!) There are many fishing hot spots on this lake. It is recommended to bring an ice fishing shack or tent because the lake is notorious for winds blowing down its 100-kilometre length.

Gull Lake
Gull Lake is part of Aspen Beach Provincial Park and is popular for its whitefish ice fishing. The lake has also been stocked with walleye in recent years. In wintertime, whitefish, pike, and burbot are plentiful, good-sized, and usually easy to catch. Locals recommend using a slow retrieve with a small worm or beadhead nymph.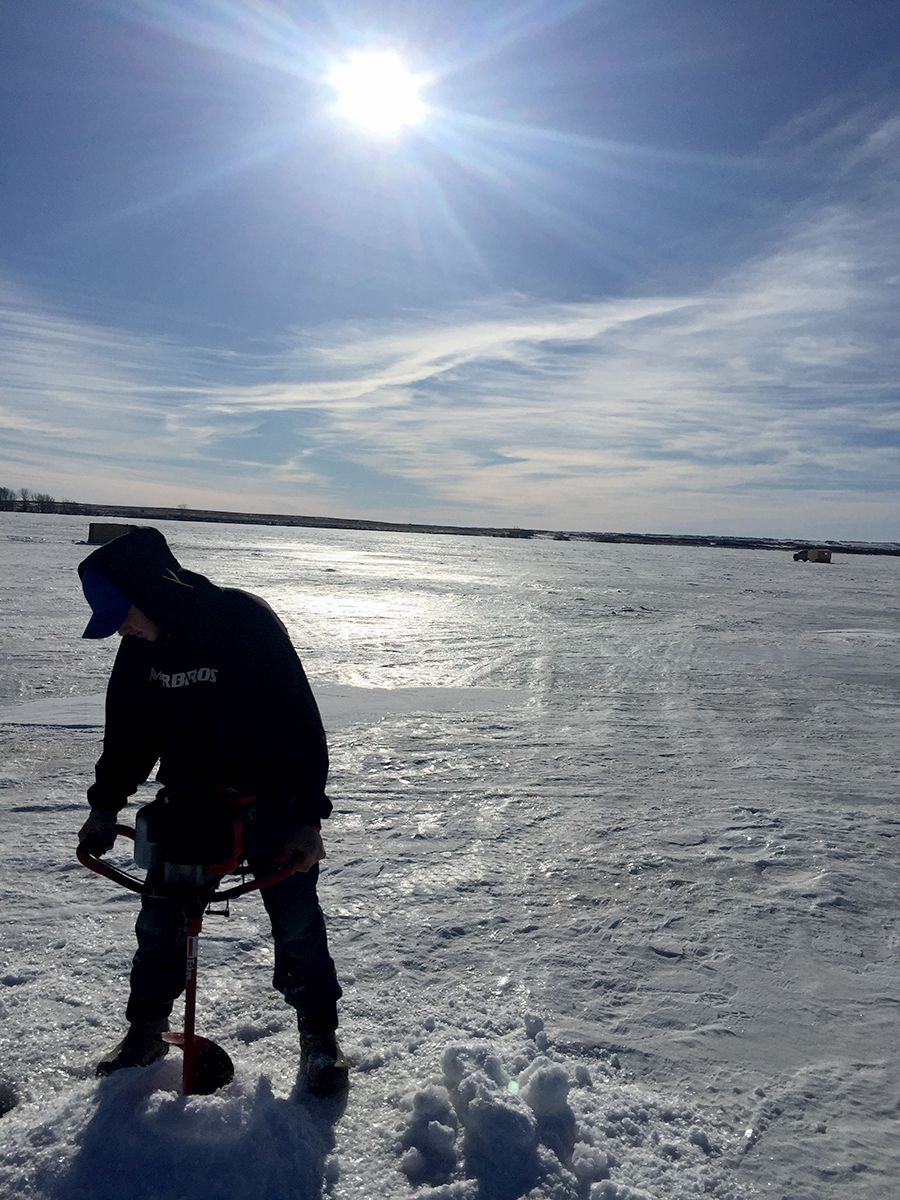 Things to Know Before You Go
Wherever you fish, be sure to check the regulations for open seasons and bait allowance each year at the lake you visit. And always check local ice conditions to ensure it's safe to head out on the lake.

For more up-to-date information on provincial ice fishing regulations, licenses and other rules, please check out the following resources: