Flaman Sales and Rentals
92 Cook Rd.
(Corner of Hwy 1 & Hwy 8 North)
Moosomin , SK
S0G 3N0
S: Closed
M: 8-5
T: 8-5
W: 8-5
T: 8-5
F: 8-5
S: 8-12

Blog
Jan 13, 2017
Booming Lentil Prices Are Back After Canada Harvest Washout
Booming Lentil Prices Are Back After Canada Harvest Washout
by
Jen Skerritt
and
Megan Durisin
January 12, 2017
https://www.bloomberg.com/news/articles/2017-01-12/booming-lentil-prices-are-back-after-canadian-harvest-washout
Rain, snow cause quality issues and losses in lentil crop
North American lentil acres will probably fall in 2017
The lentil market has gone from boom to bust, and back to boom again.
In the middle of 2016, prices for the pulse crop had plunged from record highs on the outlook for large global harvests. Now, the curry-and-soup food staple has rebounded more than 40 percent since August after rain and snow damaged a bumper crop in Canada, the world's top exporter. Some output was lost because of harvest delays or is of too poor quality to be sold, said Marlene Boersch, managing partner of Mercantile Consulting Venture in Winnipeg, Manitoba.
"We had a lot of quality problems, also losses of acres with the really late harvest," Boersch said in a telephone interview. "In spite of all odds we're actually quite tight on shippable product."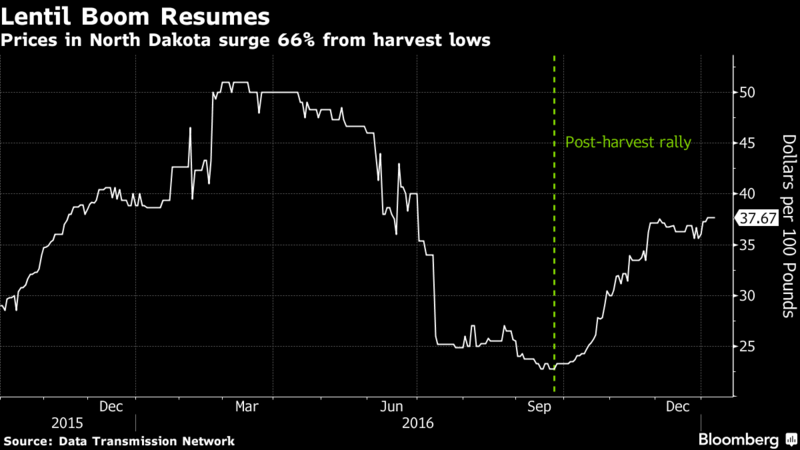 Continued rain and snow delayed harvest operations in parts of Canada's prairies as excess moisture reduced quality and yields. The price of no. 2 green lentils climbed 43 percent to as high as 66 Canadian cents a pound as of Jan. 10, up from a low of 46 cents in August, according to Brian Clancey, president and senior market analyst at Vancouver-based Stat Communications Ltd.
The 2016 Canadian harvest was one of the longest on record as some farmers were unable to complete it until the end of November because of delays from cool, wet weather, Alberta's agriculture ministry said in a Nov. 29 report. Despite the setbacks, Canada shipped 549,700 tons of lentils from August to early January, up 2.7 percent from a year earlier, Canadian Grain Commission data show.
Spot prices paid to farmers for Richlea lentils in North Dakota and Montana, the largest U.S. producers, were at about $40 per 100 pounds as of Jan. 10, U.S. Department of Agriculture data show. That's up 70 percent from mid-September,when that harvest was wrapping up.
Crop Rotation
The price gains come even as U.S. production more than doubled last year and Canada had record output. U.S. production in 2016 was probably 575,380 metric tons, up from 238,730 in the prior year, the USDA forecast on Thursday. Canada collected a record 3.2 million metric tons of the pulse grain in 2016, up 28 percent from a year earlier, Statistics Canada data show.
After last year's problems with the Canadian harvest and as growers rotate crops, planted lentils may fall by 1 million acres this year, said Bruce Burnett, a weather and crop specialist with grain marketer G3 in Winnipeg, Manitoba. Still, lentils are profitable compared with other grains and oilseeds, he said.
"After last year's experience we'll see a retreat in acres," Burnett said in a telephone interview.
After recent rapid expansion in U.S. acres, gains in 2017 may be more modest as farmers also rotate crops, said Joseph Janzen, an assistant professor at Montana State University in Bozeman. U.S. plantings of 933,000 acres last year were a record and more than triple the amount sown in 2014, USDA data show.
"A 10 percent increase in U.S. acres would be small relative to what we've seen over the last two years," Janzen said in a telephone interview.