Flaman Sales and Rentals
92 Cook Rd.
(Corner of Hwy 1 & Hwy 8 North)
Moosomin , SK
S0G 3N0
S: Closed
M: 7:30AM-5:30PM
T: 7:30AM-5:30PM
W: 7:30AM-5:30PM
T: 7:30AM-5:30PM
F: 7:30AM-5:30PM
S: 8:00AM-3:00PM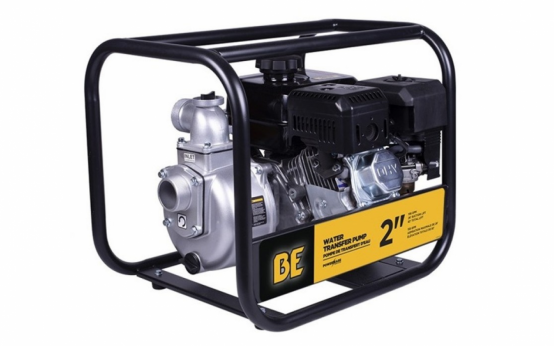 BE Water Pumps are the economical solution for on-farm and acreage pumping. Designed to handle a variety of industrial and agricultural chemicals in addition to clear water. They are built with industry-leading technology and offer trash, non-trash, and chemical pumps.
Contact Us
Quote Request
Similar Inventory
Extra Information
All BE pumps are centrifugal water pumps, with the option of either a Honda, or Powerease engine, and are equipped with recoil start, and low oil shutdown sensors. These products come with a standard two-year warranty, so that if your pump quits you won't be left high and dry!

Need the hose & fittings? click here

Pump specifications to consider:

GPM Discharge Capacity is the rate of speed that water flows from the source to the discharge point, measured in gallons per minute. It provides the power to move water quickly.

Vertical Suction Lift is the vertical distance from the water source to the pump. This is important for draining a basement or deep pond.

Maximum Head Lift is the total height from the source of the water to the destination or drainage point. This provides the power to move water over a distance.
| | | |
| --- | --- | --- |
| Cubic Centimetres | 79 cc | -- |
| Gallons / Minute | 26 GPM | -- |
| Fuel Tank Capacity | 0.5 gal / 2L | -- |
| Suction Lift | 20' | -- |
| Vertical Lift | 85' | -- |
| Engine | Powerease | -- |
BE Water Pumps
Specifications
Cubic Centimetres
Gallons / Minute
Fuel Tank Capacity
Suction Lift
Vertical Lift
Engine
1" Pump

79 cc
26 GPM
0.5 gal / 2L
20'
85'
Powerease

1" Pump - Honda

25 cc
26 GPM
0.15 gal / 0.58L
26'
121'
Honda GX25

2" Chemical Pump

196 cc
154 GPM
0.82 gal / 3.1L
26'
115'
Honda GX200

2" High Pressure Pump

225 cc
126 GPM
0.95 gal / 3.6L
26'
197'
Powerease

2" Pump

225 cc
158 GPM
0.95 gal / 3.6L
26'
82'
Powerease

2" Pump - Honda

196 cc
158 GPM
0.82 gal / 3.1L
26'
82'
Honda GX200

3" Chemical Pump

196 cc
265 GPM
0.82 gal / 3.1L
26'
92'
Honda GX200

3" Pump

225 cc
264 GPM
0.95 gal / 3.6L
26'
85'
Powerease

3" Pump - Honda

196 cc
264 GPM
0.82 gal / 3.1L
26'
85'
Honda GX200

3" Trash Pump

420 cc
370 GPM
1.7 gal/6.5 L
26'
98'
Powerease

4" High Pressure Pump

389 cc
422 GPM
1.8 gal / 6.8L
26'
98'
Honda GX390

4" High Pressure Trash Pump

389 cc
580 GPM
1.8 gal / 6.8L
26'
95'
Honda GX390

4" Pump

420 cc
422 GPM
1.7 gal / 6.5L
26'
98'
Powerease

4" Trash Pump

420 cc
580 GPM
1.7 gal / 6.5L
26'
95'
Powerease
×