Flaman Sales and Rentals
92 Cook Rd.
(Corner of Hwy 1 & Hwy 8 North)
Moosomin , SK
S0G 3N0
S: Closed
M: 7:30AM-5:30PM
T: 7:30AM-5:30PM
W: 7:30AM-5:30PM
T: 7:30AM-5:30PM
F: 7:30AM-5:30PM
S: 8:00AM-3:00PM

J&M Right-Side Unload X-Tended Reach Grain Carts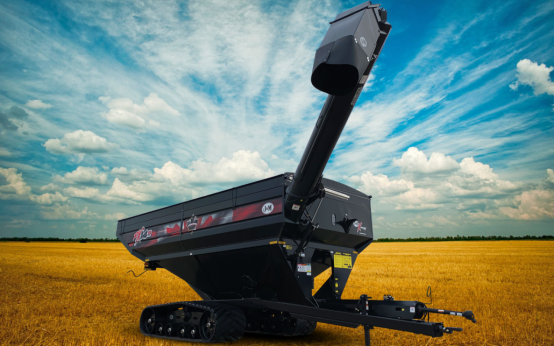 The brand-new J&M Right-Side Grain Cart is now available to order at your nearest Flaman location. Featuring the same great qualities as the 12 series X-tended reach models, the right-side auger design further increases operator visibility and unloading efficiency.
The right-hand side auger option is currently available on the 1412 model from Flaman with either a 36" V4 track or 32" wide tires.
Check out our blog to learn more about the long-awaited right-side auger grain carts from J&M.
Contact Us
Quote Request
Similar Inventory
Extra Information
J&M designed the right-side auger grain cart to make unloading easier, reduce waste, and increase safety in the field.
Traditional grain carts unload on the left side, causing you to turn away from your tractor controls. Now, you can avoid unnecessary stress and strain with the monitors, controls, and auger all located on the right side of your cart. 
Save time by transferring up to 1,400 bushels of grain in less that three minutes with the 20" straight bullet auger. Precisely offload your grain into the semi-trailer with the X-tended reach auger design, then safely fold the auger away for travel and storage.
The 32" ultra-wide tires or 36" V4 tracks help move with ease and reduce soil compaction.
All of our 1412 right-side single auger grain carts will be wrapped with special edition Canadian decals, and come full loaded with an iFarm scale, rolling tarp, and 1 ¾" PTO drive. Ask your local Flaman expert for more information!
Specs
Capacity
1,400 BU
Auger
20" Bullet
Unload Time (bu/min)
Up to 600+ bushels
Track Option Available
Yes
Hubs
10 Bolt or 20 Bolt
Spindles
6" Diameter
Tongue Weight: Empty
2,400 lbs
Tongue Weight: Loaded
4,800 lbs
Total Weight (approx.)
16,300 lbs
J&M Right-Side Unload X-Tended Reach Grain Carts
Specifications
×