Flaman Sales and Rentals
92 Cook Rd.
(Corner of Hwy 1 & Hwy 8 North)
Moosomin , SK
S0G 3N0
S: Closed
M: 8am-5pm
T: 8am-5pm
W: 8am-5pm
T: 8am-5pm
F: 8am-5pm
S: 9am-1pm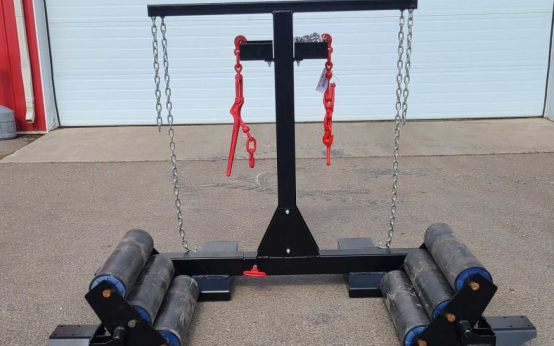 Designed by farmers to handle your large tire changes in a safe and easy manner.
Flaman Agriculture carries the Wheel Wrangler built by Gatco— Saskatchewan-made in Swift Current—is designed to make your life easier by changing tractor and sprayer tires.
Let us save you time and energy on your next tire change!
Contact Us
Quote Request
Extra Information
It used to take three people all day to change tires and wheels on tractors or sprayers. With the Wheel Wrangler, it takes two people a couple of hours. The Wrangler can be attached to any 5-foot bucket or standard forklift.
Vale Solutions made many improvements including rollers, adjustable safety bars, and lug nut pockets. Built-in rollers allow you to spin the tire to line up the bolt holes onto the wheel studs, reducing the time spent fighting with a tire. Along with adjustable safety, bars to keep the heavy tire from falling during installation. A small steel box allows you to keep hefty lug nuts in a clean place and not in your own pockets.
Pair the Wheel Wrangler with the optional Sprayer Jack, to change tractor tires quickly and safely in the farmyard.
Contact your nearest Flaman Agriculture Dealer to help ease the pain of tire changeovers.
Specs
Min Tire Diameter
42"
Max Tire Diameter
82"
Max Tire Width
28 3/4"
Max Load
1700 lbs
Wheel Wrangler
Specifications
×