Flaman Sales and Rentals
92 Cook Rd.
(Corner of Hwy 1 & Hwy 8 North)
Moosomin , SK
S0G 3N0
S: Closed
M: 8-5
T: 8-5
W: 8-5
T: 8-5
F: 8-5
S: 8-4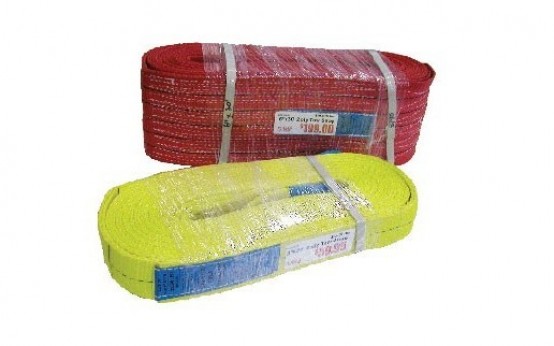 Safely pull everything from 4 x 4 off-road vehicles to large agriculture machinery out of mud and snow. When your combine gets stuck in a mud hole, there isn't anything you'll need more than the right sized flat tow strap. Most farmers keep two or more of our durable flat tow ropes on hand for towing stuck machinery like sprayers, combines, and spinner trucks. They also come in handy for yanking stumps, pulling trucks, and freeing your off-road vehicle from back country muck.

Contact Us
Quote Request
Extra Information
Nylon flat tow straps are just as strong as steel chains. The noticeable difference is that they're lightweight, easily stored in small areas, and not as noisy. The most important difference though, is that the recoil on a snapped tow strap is far less endangering than a steel chain, leading to a safer operation and lower risk of injury.
Choosing the right size is key. Some recommend to use a strap that is rated at least 2X the weight of whatever you're pulling. Other variables, including the situation, equipment involved, and the pulling technique of the driver also can play a role in determining the proper tow strap though. Just ask your Flaman rep if you have any questions about which strap is best for your job.
Features
Safely and easily free your combine, sprayer, truck and more
Rugged nylon design is lightweight, compactable, durable, and strong
From 30,000 Lb. up to 240,000 Lb. pulling strength
| | | |
| --- | --- | --- |
| Weight (lbs) | 200,000 lbs | -- |
| Ply | 3-Ply | -- |
Tow Straps
Specifications
12" x 30'

12" x 30'

12" x 50'

12" x 50'

2" x 20'

2" x 30'

3" x 30'

3" x 50'

4" x 30'

4" x 50'

5" x 30'

5" x 50'

6" x 30'

6" x 50'

8" x 30'

8" x 50'
×