Flaman Sales and Rentals
92 Cook Rd.
(Corner of Hwy 1 & Hwy 8 North)
Moosomin , SK
S0G 3N0
S: Closed
M: 7:30-5:30
T: 7:30-5:30
W: 7:30-5:30
T: 7:30-5:30
F: 7:30-5:30
S: 8:00-2:00

Flaman Agriculture Moosomin, Saskatchewan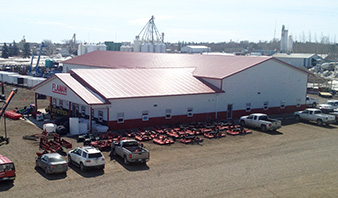 Located at 92 Cook Road, the corner of Hwy 1 & Hwy 8, Flaman Sales in Moosomin is your short line agriculture equipment stop. Carrying grain bins, augers, water tanks, conveyors, chem handlers, and much more!

In December 2012, Moosomin opened a new 16,000 sq ft state-of-the-art facility, including a drive-thru bay to load up new purchases or unload their rental equipment. Climate-controlled pick-up and drop-off is a huge game-changer during winter in Southern Saskatchewan.

Our Moosomin store has a fully stocked 7,000 sq ft showroom with all the additional generators, water pumps and hoses for the upcoming farming season. We also have a full wash bay, large service shop, and trailer set up bay.

Flaman Sales Moosomin is home to our Trailers, Rentals, and Fitness divisions in the area.

Stop 92 Cook Road in Moosomin, Saskatchewan, the coffee is always fresh and the staff is happy to help you!