Flaman Sales and Rentals
92 Cook Rd.
(Corner of Hwy 1 & Hwy 8 North)
Moosomin , SK
S0G 3N0
S: Closed
M: 8am-5pm
T: 8am-5pm
W: 8am-5pm
T: 8am-5pm
F: 8am-5pm
S: 9am-1pm

Flaman Agriculture Yorkton, Saskatchewan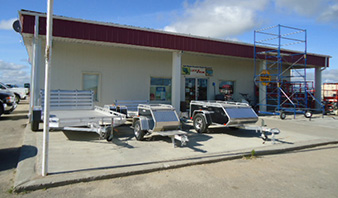 Founded in 1959, the family owned, Flaman Group of Companies has become synonymous with quality products, reasonable prices and outstanding customer service.
Flaman Agriculture in Yorkton was opened in 1997 offering bins and trailers out of a small location on York Road. Flaman Yorkton quickly outgrew its original home and moved into its current location at the intersection of Highways 9 and 16. Flaman Yorkton has become known for its short line agricultural equipment, trailer sales, large rental fleet, a full hardware and parts department as well as a complete service repair shop to keep you in the field and on the road.
Our knowledgeable staff is always available to help you with all aspects of your grain handling and storage needs. We offer a wide range of grain augers, conveyors, carts and vacs along with grain bin packages, aeration equipment, and grain monitoring systems. Our team will provide you with the right grain handling and storage solutions for your operation.
Our location offers Wishek and Farm King discs, as well as Rite Way Land Rollers and harrows to help cover your in field needs. We carry a wide range of Schulte and Farm King snow blowers, cutters, and mowers, as well as, three point hitch implements and attachments. We stock an abundant selection of hardware items including fuel tanks, septic tanks, water tanks, pumps and fittings. For the outdoor enthusiast we carry ice fishing shacks, hunting and fishing sleds, as well as boat lifts and docks.
Flaman has become well known for its wide range of flat deck and enclosed trailers. Offering a broad selection of industrial and commercial flat decks, dump trailers, utility trailers, car haulers, toy haulers, snowmobile trailers and a wide variety of enclosed cargo trailers, Flaman trailers will get you there.
Flaman Yorkton has built a large rental fleet and has become the go to stop for the surrounding area's rental needs. Whether in the field, on your job site, in your yard, or in your home, we have the tools and equipment you need to get the job done right.
Our large parts department and full service repair shop strive to keep your equipment working for you in the field and your trailers on the road. Come in and take a look at our extensive selection of trailer parts and accessories. If you need it, we have it.
Flaman Agriculture in Yorkton has been able to remain successful over the years by offering good value and great service. In the field, on the road, or at home, we are right there with you. Our knowledgeable staff is available to price out equipment for any size farm for any season of the year.