Flaman Sales and Rentals
92 Cook Rd.
(Corner of Hwy 1 & Hwy 8 North)
Moosomin , SK
S0G 3N0
S: Closed
M: 8:00-5:00
T: 8:00-5:00
W: 8:00-5:00
T: 8:00-5:00
F: 8:00-5:00
S: 9:00-1:00

Flaman Agriculture Saskatoon, Saskatchewan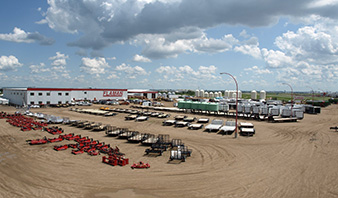 At the corner of Highway 16 and 71st Street West in Saskatoon, Flaman deals with innovative products, such as boat docks and lifts, pressure washer trailers, right-hand auger grain carts, custom sprayer trailers and much more! We carry everything you need for grain handling, from baggers, extractors, augers and conveyors, grain bins and grain cleaning. We are the one-stop for grain handling in the Saskatoon area. We also carry a large variety of shop supplies, water and fertilizer tank for all your farm's needs.

Our Saskatoon location is home to Flaman Trailers, Rentals, Grain Systems, and Corporate Services.

Flaman Trailers Saskatoon offers more than trailers for sale or rent. We are a full-service trailer shop helping you keep your trailer operating smoothly. Flaman carries a diverse selection of trailers including flat decks, enclosed cargo trailers, toy haulers, and dump trailers.

Our roots can be traced back to the rental of machinery and custom bailing, Flaman Saskatoon offers short-term rentals on agriculture implements and trailers. We can set you up with half-day, full-day, weeklong, weekend or month-long rentals rates.

Flaman Grain Systems located in Saskatoon has over 30 years of experience in grain handling, cleaning and setup. We are one of the largest manufacturers of grain cleaning screens in North America with the ability to construct thousands of different screens. Our knowledgeable team can set up your complete grain system solution from start to finish.

Stop by today for a chat with our friendly and knowledgeable staff!