Flaman Sales and Rentals
92 Cook Rd.
(Corner of Hwy 1 & Hwy 8 North)
Moosomin , SK
S0G 3N0
S: Closed
M: 8:00AM-5:00PM
T: 8:00AM-5:00PM
W: 8:00AM-5:00PM
T: 8:00AM-5:00PM
F: 8:00AM-5:00PM
S: 8:00AM-12:00PM

Flaman ST-9400 Sprayer Transport Trailer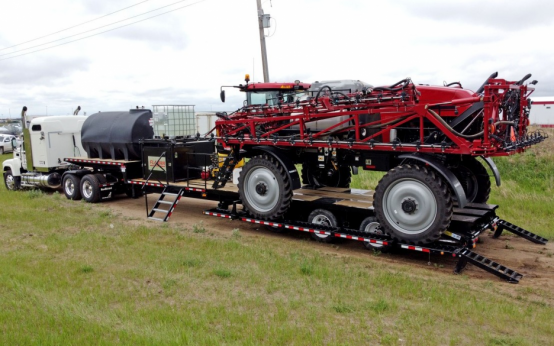 Say hello to your complete sprayer transport trailer. Built on a heavy-duty 53' Behnke step-deck transport trailer, the Flaman ST-9400 Sprayer transport trailer is loaded with features to safely transport your sprayer while increasing efficiency and reducing downtime in your spraying operation.
This unit comes equipped with a 2,200 US gallon (8,350 L) heavy-duty fertilizer-grade water tank, with baffles to completely minimize water sloshing and pin tie-downs for secure fastening to the trailer deck. 
Contact Us
Quote Request
Similar Inventory
Extra Information
The Flaman ST-9400 is equipped with one heavy-duty, fertilizer-grade water tank with a capacity of 2,200 US gallons (8,350 L) and a durable stainless steel lid. These units are mounted on a high-quality, heavy-duty 53' Behnke step-deck transport trailer.
Features:
Chem Handler III with 13HP pump
3" bi-directional water lines run through the unit
Diesel fuel storage with high-volume electric fuel pump
Deck level sprayer fill
1,032 L road-vault flat top tank
Folding ladder with transport lock
Outfitted with a tote rack and cage for storage of smaller chemicals, fuel, PPE, DEF, etc.